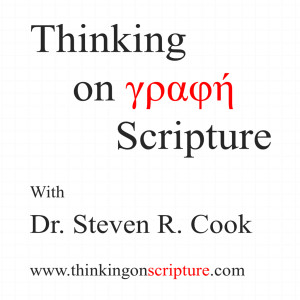 Saturday Jul 30, 2022
Deuteronomy 28:15-68 - Introduction to the Curses & Review of Israel's History
Deuteronomy 28:15-68
Dr. Steven R. Cook
Introduction
     Concerning Deuteronomy chapter 28, Thomas Constable states, "This section of Deuteronomy (chapters 27-28) is one of the most important ones in Scripture because it records the two options open to Israel as she entered the Promised Land. Obedience to the revealed Word of God would result in blessing, but disobedience would result in blasting."[1] Dwight Pentecost adds, "For understanding and explaining Israel's history as recorded throughout the Old Testament, there are perhaps no more important chapters than Deuteronomy 28–30."[2]
     Moses, having previously stated God's wonderful blessings for the obedient-to-the-Word Israelite (Deut 28:1-14), followed with God's cursings that would come upon the one who was disobedient-to-the-Word (Deut 28:15-68). In Deuteronomy 28:15-68, Moses set forth the curses that God would bring upon Israel if they repeatedly violated His directives as found in the Deuteronomic law code. Moses used the Hebrew verb אָרָר arar six times, which means, "to bind with a curse."[3] The form of the verb is passive, which meant a curse was received by the nation of Israel if they turned away from God. Victor Hamilton states that אָרָר arar means "to bind, hem in with obstacles, [or] render powerless to resist."[4] The curses mentioned in Deuteronomy are reflexive of those who violate their covenant relationship with God. That is, they bring the curses on themselves by violating God's Word.[5] God's curses are His righteous response to unethical behavior among His people, and they could be avoided by simply walking in obedience with the Lord (Deut 28:15, 20, 45-47, 58-59, 62; 29:25-28; 30:17-18). If the Israelite was aligned with God's Word in thought, speech, and conduct, it would open the channel for His blessing. However, if the Israelite turned from God's path, it would open the channel of cursing. Dwight Pentecost states, "These curses were not viewed as punishment for disobedience as much as disciplines to bring a guilty people back to obedience to God."[6] Jack Deere agrees, saying, "Each individual judgment essentially had one goal: to turn Israel from disobedience."[7]However, the curses would lead to ultimate destruction if God's people persisted in their sinful rebellion.
     This lengthy section can be viewed in two parts: 1) a statement of curses that reverse all God's blessing (Deut 28:15-19), and 2) specific descriptions of the curses that God will send on Israel until they are destroyed (Deut 28:20-22, 24, 45, 48, 51, 61). God's judgment upon His people was self-inflicted because they would not obey Him (Deut 28:20, 45, 47, 62). God executed these curses at various times when His people were disobedient to the covenant (see Judg 2:20-22; Jer 6:19; 11:9-11; 29:15-20; 34:17-20; Dan 9:4-6; Hos 8:1-3).
     The transmission of God's law to subsequent generations was primarily the responsibility of the parents (Deut 6:1-9), and priests (Lev 10:8-11; Ezra 7:10; Mal 2:7). Failure to teach God's law to subsequent generations of Israelites would create a theological vacuum in their souls which Satan would gladly fill. If God's people operated by unethical standards, His judgments would fall upon them. God held His people accountable for their ethical behavior, even if/when the majority did not know or abide by His laws, as ignorance did not protect them from His judgments (see 2 Ki 22:1-13). However, His judgments did not happen right away, as God would send ample warnings through His prophets, who occasionally functioned as a prosecuting attorney (רִיב rib),[8] pointing out their violation of the law and the impending consequences if they did not turn back to the Lord (i.e., repent). When God's prophet functioned as a prosecuting attorney for the Lord, he would present God's case before the people (Hos 4:1-3; 12:2; Mic 6:1-2). The Hebrew verb רִיב rib, when used by the prophet, denotes "God's lawsuit…against His own people."[9] According to Earl Radmacher, "The Hebrew word refers to a formal complaint charging Israel with breaking the covenant."[10] If Israel persisted in sin, God would execute His judgments in ever increasing severity, until they were eventually destroyed and removed from the land. Historically, we know God destroyed the ten northern tribes of Israel in 722 B.C. because His people had broken covenant with the Lord, and this occurred after repeated warnings through His prophets (2 Ki 17:1-23). The same judgment fell upon the two southern tribes of Judah in 586 B.C. when God raised up the Babylonians to defeat His people and take them into captivity (2 Ki 24:8-16), and this happened after repeated warnings by His prophets (Jer 7:25-26; 25:4-11; 29:18-19). Warren Wiersbe states:
"The fact that Israel is God's chosen people and a special nation explains why He chastens them, for the greater the privilege, the greater the responsibility. "You only have I chosen of all the families of the earth; therefore, I will punish you for all your sins" (Amos 3:2). Divine election isn't an excuse for human rebellion. "For everyone to whom much is given, from him much will be required" (Luke 12:48)."[11]
[1] Tom Constable, Tom Constable's Expository Notes on the Bible (Galaxie Software, 2003), Dt 28:58.
[2] J. Dwight Pentecost, Thy Kingdom Come: Tracing God's Kingdom Program and Covenant Promises throughout History (Grand Rapids, MI: Kregel Publications, 1995), 105.
[3] Ludwig Koehler et al., The Hebrew and Aramaic Lexicon of the Old Testament (Leiden: E.J. Brill, 1994–2000), 91.
[4] Victor P. Hamilton, "168 אָרַר," ed. R. Laird Harris, Gleason L. Archer Jr., and Bruce K. Waltke, Theological Wordbook of the Old Testament (Chicago: Moody Press, 1999), 75.
[5] We observe in Deuteronomy 27 how the verb אָרָר arar came upon the one who practiced idolatry (Deut 27:15), dishonored parents (Deut 27:16), secretly stole from a neighbor (Deut 27:17), injured the disabled (Deut 27:18), distorted justice due to the alien, orphan, or widow (Deut 27:19), practiced sexual perversion (Deut 27:20-23), secretly struck a neighbor (Deut 27:24), accepted a bribe to kill the innocent (Deut 27:25), or disobeyed any of God's laws (Deut 27:26).
[6] J. Dwight Pentecost, Thy Kingdom Come, 106.
[7] Jack S. Deere, "Deuteronomy," in The Bible Knowledge Commentary: An Exposition of the Scriptures, ed. J. F. Walvoord and R. B. Zuck, vol. 1 (Wheaton, IL: Victor Books, 1985), 312.
[8] The Hebrew verb רִיב rib is used some places in Scripture in a non-legal sense of people who fight with each other (Gen 13:7; Ex 17:7; Jer 15:10), as well as a legal sense in which one person takes up a lawsuit or legal case against another (Deut 17:8; 19:17; 21:5).
[9] Ludwig Koehler et al., The Hebrew and Aramaic Lexicon of the Old Testament, 1226.
[10] Earl D. Radmacher, Ronald Barclay Allen, and H. Wayne House, Nelson's New Illustrated Bible Commentary (Nashville: T. Nelson Publishers, 1999), 1029.
[11] Warren W. Wiersbe, Be Equipped, "Be" Commentary Series (Colorado Springs, CO: Chariot Victor Pub., 1999), 170–171.
Comments
(0)
To leave or reply to comments, please download free Podbean or