Thinking on Scripture with Dr. Steven R. Cook
salvation
Episodes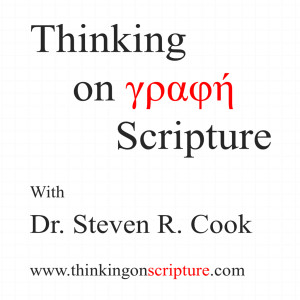 Saturday Oct 23, 2021
Saturday Oct 23, 2021
Complete set of notes here. The History and Meaning of Death      Death was introduced into God's creation when the first human, Adam, sinned against God. Adam's sin immediately brought spiritual death (Gen 2:15-17; 3:1-7), and later, physical death (Gen 5:5). Though Adam was made spiritually alive again (Gen 3:21), his single sin introduced death, in every form, into the world (Rom 5:12-14; 1 Cor 15:21-22). Death means separation. Three major kinds of death are mentioned in Scripture, and these include: 1) spiritual death, which is separation from God in time (Gen 2:16-17; 3:1-7; Rom 5:12; 1 Cor 15:22; Eph 2:1-2; Col 2:13-14), 2) physical death, which is the separation of the soul from the body (Eccl 12:7; 2 Cor 5:8; Phil 1:23-24; 2 Tim 4:6), and 3) eternal death (aka the "second death"), which is the perpetuation of physical and spiritual separation from God for all eternity (Rev 20:11-15).      God has granted that some would not experience death, and these include Enoch (Gen 5:21-24), Elijah (2 Ki 2:11), and those Christians at the rapture (1 Cor 15:51-52; 1 Th 4:13-18). However, there have been others who died and were resuscitated, only to die a second time. These include the son of the widow in Zarephath (1 Ki 17:17-24), the Shunamite's son (2 Ki 4:32-34; 8:1), the son of the widow in Nain (Luke 7:11-15), Jairus' daughter (Luke 8:40-42, 49-55), Lazarus (John 11:43-44), various saints in Jerusalem (Matt 27:50-53), Tabitha (Acts 9:36-40), and Eutychus (Acts 20:7-10). But for most, there is an appointed time to die (Eccl 3:2; 8:8; cf. Deut 31:14; 1 Ki 2:1), and afterwards, to meet God for judgment (Heb 9:27). For believers, this is a time of reward (1 Cor 3:10-15; 2 Cor 5:10), but for unbelievers, it is a time of judgment as they face the Lake of Fire (Rev 20:11-15). Though death is inevitable; where we spend eternity is optional. God loves us and sent His Son into the world to provide eternal life for us (John 3:16-17; 10:28).      There are three major kinds of life mentioned in Scripture: 1) regenerate life, which is the new life God gives at the moment of salvation (John 3:3; 1 Pet 1:3, 23), 2) resurrection life, which is the new and perfect body we receive when the Lord calls us to heaven (John 11:25-26; 1 Cor 15:42-44), and 3) eternal life, which is perpetual life given at the moment of salvation and extends into heaven and eternity (John 3:16; 6:40; 10:28; Rom 6:23; 1 John 5:11-13). The Eternal State      What is our eternal future? Scripture reveals every person will spend eternity either in heaven with God (Dan 12:1-2; 1 Cor 15:51–53; 1 Th 4:14–17; Rev 20:4-6), or the Lake of Fire away from Him (Rev 20:11-15). Heaven is the place where God dwells, and Jesus promised we'll be there with Him (John 14:1-3). Heaven is a place of worship (Rev 19:1-3), service (Rev 22:3), and free from tears, pain, or death (Rev 21:3-4). God loves us and desires to have a relationship with us in time and eternity (John 3:16-17; 10:28; 14:1-3). However, our sin separates us from God (Isa 59:2; John 8:24; Rom 5:12). But God, who is merciful (Eph 2:3-5; Tit 3:5), dealt with our sin once and for all when He sent Jesus as a substitutionary atoning sacrifice to die in our place and pay the penalty for our sins (Isa 53:1-12; Mark 10:45; 2 Cor 5:21; Heb 10:10-14; 1 Pet 2:24; 3:18). At the cross, God satisfied all His righteous demands toward our sin (1 John 2:2; 4:10). Those who believe in Jesus as their Savior receive forgiveness (Eph 1:7; Col 2:13-14), the gifts of eternal life and righteousness (John 3:16; 10:28; Rom 5:17; 2 Cor 5:21; Phil 3:9), and will spend eternity in heaven (John 14:1-3; 2 Cor 5:1-5; Phil 3:20-21). Those who reject Jesus as their Savior have no future hope and will spend eternity away from God in eternal punishment (John 3:18, 36; Rev 20:14-15). When we turn to Christ as our Savior, we have a bright eternal destiny assured for us in heaven (1 Pet 1:3-4).       All believers anticipate a future time of resurrection in which God will reunite the soul with the body. Job said, "As for me, I know that my Redeemer lives, and at the last He will take His stand on the earth. Even after my skin is destroyed, yet from my flesh I shall see God; whom I myself shall behold, and whom my eyes will see and not another. My heart faints within me!" (Job 19:25-27). The body we have is perishable, but our resurrection body is imperishable. Paul compared our body to a seed that is sown into the ground that God will one day bring to life. Paul wrote, "It is sown a perishable body, it is raised an imperishable body; it is sown in dishonor, it is raised in glory; it is sown in weakness, it is raised in power; it is sown a natural body, it is raised a spiritual body" (1 Cor 15:42-44). Of course, Jesus makes this possible, as He told Mary, "I am the resurrection and the life; he who believes in Me will live even if he dies" (John 11:25). To trust in Christ as Savior guarantees us eternal life right now, and the promise of a new body that will live forever, free from sin and decay. By God's goodness and grace, heaven is open, and the free gift of eternal life is given to those who trust completely in Jesus Christ as their Savior. Our salvation is made possible by Jesus' substitutionary death on the cross. He paid our sin-debt and gives us eternal life at the moment we trust in Him.      All believers go straight to heaven when we die, and there we will live forever. God will let us in. He does not have a choice in the matter. The Lord has integrity, and He promised that whoever believes in Jesus as Savior will be forgiven all their sins (Eph 1:7) and have eternal life (John 3:16; 10:28). He made the provision for salvation, and He will honor His Word. In fact, God is bound to His Word, for "it is impossible for God to lie" (Heb 6:18; cf. Tit 1:2). By faith, we trust Him when He promises to do something, and we know that faith pleases Him (Heb 10:38; 11:6).       When the Christian leaves this world for heaven, her last breath here is her first breath there, and what a breath that must be! Scripture reveals, "to be absent from the body" is "to be at home with the Lord" (2 Cor 5:8). Though it is a sad time for us, it is an improvement for the believer, as Scripture states, "to live is Christ and to die is gain" (Phil 1:21). The advantage is that the believer gets to meet the Lord Jesus Christ, face to face, in heaven; and this joyous relationship is forever!      At physical death, all of life's decisions are fixed for eternity, and what we do with Christ determines our eternal destiny (John 3:16-18; 1 Cor 15:3-4; Eph 2:8-9). It has been said that procrastination is the thief of time and opportunity, and when one procrastinates about the gospel, it becomes the thief of souls. Please don't delay. Trust Christ as Savior today and receive eternal life, believing the gospel that He "died for our sins according to the Scriptures, and that He was buried, and that He was raised on the third day according to the Scriptures" (1 Cor 15:3-4). And, like the thief on the cross who trusted in Jesus, you can be assured your soul will immediately go into the presence of God at death (Luke 23:43). Don't wait another day. The Lord will forgive you all your sins and grant you eternal life. He promised, and He'll keep His word. He has integrity and cannot do otherwise.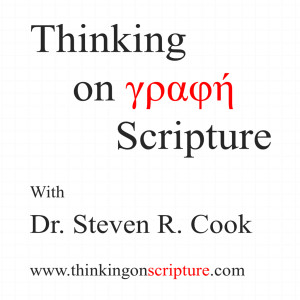 Wednesday Jul 14, 2021
Wednesday Jul 14, 2021
     The gospel is the solution to a problem (see video presentation). It's the good news that follows the bad news. There are two parts to the problem. First, God is holy (Psa 99:9; Isa 6:3; Rev 15:4), which means He is positively righteous and separate from all that is evil. Being holy, God can have nothing to do with sin except to condemn it (Hab 1:13; 1 John 1:5). Second, all mankind is sinful and separated from God (Rom 3:10, 23). We are sinners in Adam (Rom 5:12; 1 Cor 15:21-22), sinners by nature (Rom 7:14-25; 13:12-14), and sinners by choice (Isa 59:2; Jam 1:14-15). Some who experienced God's holiness automatically saw their sinfulness (Isa 6:5; Luke 5:8). To further complicate the problem, we are helpless to solve the sin problem and save ourselves (Rom 5:6-10; Eph 2:1-3). Good works have no saving merit before God (Isa 64:6; Rom 4:1-5; Gal 2:16, 21; Eph 2:8-9; Tit 3:5; cf. Phil 3:4-9). We cannot save ourselves any more than we can jump across the Grand Canyon or throw rocks and hit the moon. But God, because of His mercy and love toward us (John 3:16; Eph 2:3-7), did for us what we cannot do for ourselves. He provided a solution to the problem of sin, and that solution is the cross of Christ (1 Cor 1:18). God the Son—the second Person of the Trinity—came into the world by human birth (Luke 1:26-35; John 1:1, 14), lived a perfectly righteous life (Matt 5:17-21), and willingly died in our place and bore the punishment for our sins. Jesus solved both problems: 1) He lived the righteous life that God demands and committed no sin (2 Cor 5:21; Heb 4:15; 1 John 3:5), and 2) He died for us on the cross and paid the penalty for all our sins (Isa 53:1-12; Mark 10:45; Rom 5:6-10; 1 John 2:2). Peter informs us that Jesus died in our place, "the just for the unjust, that He might bring us to God" (1 Pet 3:18). The cross is God's righteous solution to the problem of sin, as well as His greatest display of love toward sinners. At the cross, God judged our sin as His righteousness required, and pardons the sinner as His love desires. To understand the cross of Christ is to understand the heart of God toward a fallen world He wants to save.      Scripture reveals that after Jesus went to the cross and died for our sins, He was buried, and raised again on the third day (Matt 16:21; 17:22-23; Luke 24:6-7; Acts 10:38-41; 1 Cor 15:3-4). After His resurrection, Jesus appeared to numerous persons over a period of forty days, namely, Mary Magdalene and other women (Matt 28:1-10; John 20:10-18), two disciples on the road to Emmaus (Luke 24:13-32), the disciples without Thomas (John 20:19-25), the disciples with Thomas (John 20:26-29), the disciples by the Sea of Galilee (John 21:1-23), Peter, James, and more than 500 brethren at one time (1 Cor 15:5-7), the apostle Paul (1 Cor 15:8), and lastly, to the disciples at the Mount of Olives (Acts 1:9-12). Jesus' resurrection means He conquered sin and death and will never die again (Rom 6:9).      In order for us to be reconciled to God, we must simply trust in Jesus as our Savior (John 3:16; 20:30-31; Acts 4:12; 16:30-31). The gospel message is that "Christ died for our sins according to the Scriptures, and that He was buried, and that He was raised on the third day according to the Scriptures" (1 Cor 15:3-4). When we trust in Christ as our Savior, we are forgiven all our sins (Eph 1:7; Col 1:14), given eternal life (John 3:16; 10:27-28), and receive the righteousness of God as a free gift (Rom 5:17; 2 Cor 5:21; Phil 3:9).